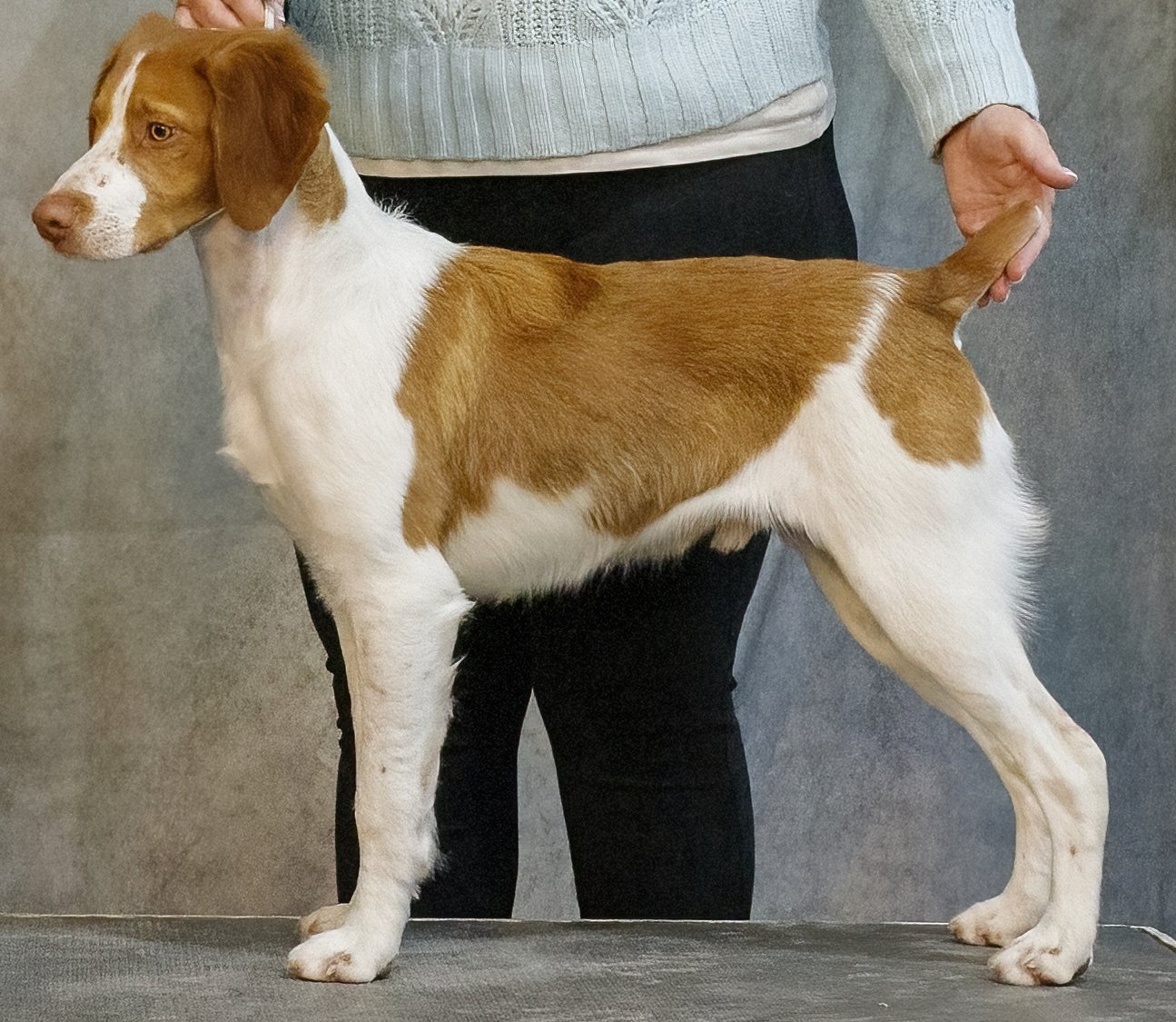 Turning Points Ring of Fire- Johnny
Turning Points Ring of Fire, Johnny
Turning Points Ring of Fire, Johnny, is from a repeat breeding of our lovely NGDC AmFC GFC DC GCH Turning Points Shenanigans (Shandi) x DC GFC AFC A Touch of Bourbon With Diamonds (Trace). The first litter from this pairing produced some amazing puppies and it was an easy choice to repeat this breeding. When we looked at our Hannah from this first breeding we said, out load, we want more of this! It took a bit to get that. An attempt at natural breeding failed and that cycle passed us by. The next time we were ready and wanted to do this breeding by AI. The timing had to be perfect. The chilled semen was shipped by our friend Rick Hastings from Stanley, KS, got hung up a bit in Memphis and then made the final leg to the amazing Veterinary Village in Lomira, WI. Dr. Greer and her fantastic team did what they do best, reproductive health, and a couple weeks later we had confirmation that Shandi was in fact pregnant.
As Shandi's due date approached, we had an ultrasound that confirmed at least 3 healthy puppies. On May 19, 2022, three healthy puppies were born at Veterinary Village with the assistance of Dr. Michelle Ahmann. Appropriately, given the journey of Trace's contribution to this breeding, we gave them puppy names of Stanley, Memphis and Aurora (where we live). The puppies had all been spoken for so we did our super puppy exercises for early neurological stimulation and everything else we do to get these puppies ready to go to their forever homes, including house training and crate training. All was going great until one of the people who was in position to get a puppy from this litter backed out. Suddenly we had a situation on our hands… keep the puppy or find the next person on the wait list who wanted a male. Just looking at him and how he stood, his intelligence, his movement and more we said "her loss is our gain, we're keeping him". What a great choice.
The day after Johnny turned six months old he competed in his first show. That day he won best of breed and we were thrilled. We thought he was well put together and moved beautifully, but to have the validation of a judge at a show recognize it was truly special. What made it extra special was the fact that Dr. Ahmann happened to be at this show as well and got to see him as a six month old. Check out Johnny's pedigree HERE.
In the field so far we are seeing great things. He looks great on point, is hunting all the time and lights up like a Christmas tree when a bird takes flight. He's always playing with his older sister Hannah and loves to snuggle. Yes indeed, the fact that we ended up keeping Johnny was meant to be and we can't wait to see how he develops. Stay tuned for more…