Turning Point Brittanys- A Life Long Passion For The Betterment of the Breed
A Message From Julie Nelson, Owner of Turning Point Brittanys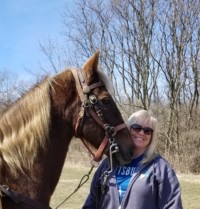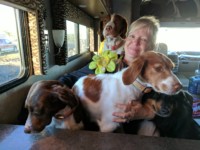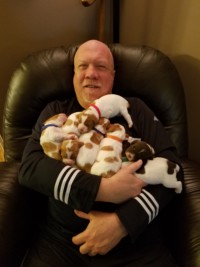 My name is Julie Nelson and I am the owner of Paws In Time Pet Resort, Lifestyle Dog Training and Turning Point Brittanys.  I have loved dogs my entire life.  I was the little girl who dressed up my dogs, taught them tricks, took care of them, and played with them.  I've probably thrown a tennis ball for my dogs over a million times… not kidding.  And, one breed stole my heart early on, the Brittany.
My love of the beautiful Brittany began when I was a young girl. My best friend's family had the most beautiful dog I had ever seen, Rusty, a Brittany. They would load up the family and Rusty in the station wagon and go off for the weekend to dog shows and something called field trialing. Well, I was smitten. Whatever field trialing was I wanted to do it with a dog just like Rusty.
And so, over 20 years ago, I entered the world of field trialing and began showing Brittanys, too. My dreams came true. To me field trialing is the perfect combination of activities. I get to be outside riding horses, enjoying time with friends and watching my dogs do what they were bred to do. In the show ring, they are beautiful and elegant to watch. As a Brittany owner and breeder, I require that all of my dogs be able to handle the pressures of both the show ring and the field and many times we do both activities on the same weekend.
As a breeder, it is important to me to breed a Brittany that is both beautiful and functional. I want to breed a dog that is pleasing to look at as well as be able to hunt all day with you. To achieve this, I will only breed dogs that I feel adhere to the breed standard as well as being sound in temperament. A Brittany should be a family dog that you can take hunting and come home with at the end of the day and still enjoy having in your home. I am also looking for dogs with no wasted movement in their gait. Their conformation should allow them to run for hours with little to no strain on their bodies.
My dogs live in my home and either go to work with me every day or stay home, but our favorite thing to do is get out of the house to have fun.  Fun to us is going field training, going to dog parks and going to spend the day on our boat so we can go swimming.  They are equally happy to go to work and staying at home playing with each other or their friends in daycare.  They are extremely social and friendly both with people and other dogs. They are continually worked and played with to keep their lives fun and interesting, no matter their age.  They are extremely versatile as well, doing things like agility and dock diving in addition to their fine bird work in the field.
To sum things up for you, I am interested in the dual dog. That is me to my core. I do not have "show dogs" and separately have "field dogs". I have both in one package and I strive to continue this in my breeding program. As a result I have had a National Gun Dog Champion, two runner ups at the National Gun Dog Championships, Futurity winners, Futurity dual dog winners, dual champions and the 2017 and 2019 W.E. Stephenson Memorial National Dual Dog Award winners.  This is validation of my breeding philosophy and application.  It is my goal to encourage and support you to compete in both field trials and showing your dual quality Brittany from my breeding program. When you get a puppy from my breeding program, please know that I have decades of study and experience behind that dog that will give you a wonderful experience with a Turning Point Brittany.
Julie Nelson
Owner
Turning Point Brittanys
The Brittany got its name from the province in France where it originated.
Essential online resources for Brittanys and dog breeding:
Since 2002, I have also owned and operated Paws in Time, the western Chicago suburbs' premier doggie day care and boarding centers operating out of two locations and employing 35 people: