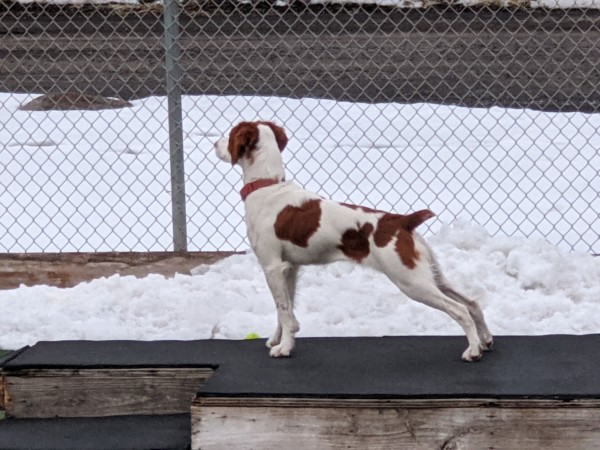 Turning Points Rolling In The Deep – Hannah (aka Hannah B, Beezer, Baby Girl, Wiggler, B)
Hannah is from the simply miraculous breeding of our lovely NGDC AmFC GFC DC GCH Turning Points Shenanigans (Shandi) x DC GFC AFC A Touch of Bourbon With Diamonds (Trace). They were bred just a few weeks after Shandi won the 2019 Gun Dog Nationals and Trace took runner up to her. There was so much going on in our lives personally at the time they were bred, we almost didn't get the breeding done. Alas, Shandi gave birth to a lovely litter of little potatoes on February 21, 2020, just before the pandemic hit. We named them all after potatoes because they were a very active group of 5 puppies who felt like potatoes rolling around in her tummy. So we had Red (now Timber), Hannah (still Hannah), Yukon (now Beau), Tater (now Tate) and Jewel (now Ember). Click here for Hannah's pedigree From a very early age, Hannah had a keen interest in things going on far away from her and she would quickly run to see what it was, not wanting to miss out on excitement.
She also demonstrated a very high prey drive which is one of the main reasons we kept her for ourselves from the litter. At only 5 weeks she was able to track toys that were thrown for her and would bring them back carrying them each time very carefully by the smallest part possible that she could hang on to. This is a funny characteristic that remains today. She retrieves still by carrying everything with the softest mouth and will gently lay the object at your feet.
Hannah completed her field trial puppy and derby points by 14 month old while gaining strength, confidence in the game, independence, momentum and hard driving forward speed and determination each time she ran. As a young dog, Hannah does not think play when she hits the ground running. She turns on all of her hard prey drive and goes straight to work to find game.
In the show ring, Hannah is composed and elegant in her movement. She has very nice reach and drive allowing her to cover ground effortlessly and with no wasted movement. Hannah has points in the ring and we hope to finish her show championship from the Bred By Exhibitor class exclusively making her our first ever Bred By Exhibitor champion.
Hannah has two theme songs, her namesake song "Rolling In The Deep" by Adele is her first. And because her butt is always wiggling we can't help but think of the song "It's All About That Bass" by Meghan Trainor.
Keep your eyes on Hannah. She will be fun to watch!!!